So, this blog is going to be way different from what I've been posting lately, so if you want to just skip on past it, I completely understand. I've been debating back and forth now for an hour on whether or not to post it...it's just something so, so personal about myself that it makes me so vulnerable to post.
February 22-28th is National Eating Disorders Awareness Week, and when I found out the date, I thought that it was such an important topic and part of my life that I couldn't just ignore it and post about the usual things I love to blog about.
Growing up, I lived a pretty privileged life - which was a double- edged sword. Because my mom is a surgeon and my father is a pretty big businessman, it meant that for a long time, I didn't really have either parent in my life. My mom was constantly in the city working, and my dad was always overseas on business trips. My brother and I were raised by a stream of au pairs and nannies, until my mom finally resigned from her position at the hospital. My dad was home maybe once or twice every two weeks before jetting off to Europe or Japan to "seal that last deal," which was a phrase I knew all too well by that point.
While my mom was home now, she and I didn't have a close relationship where I could really confide in her about things. We don't have much in common, and it became this huge wall between us, so as I continued getting older and becoming more self conscious, I felt like I had absolutely no one to turn to and confide in.
Our elementary school ended in fourth grade, so as fifth graders, we moved on to the middle school, which was so terrifying. It was at that point when girls started getting boyfriends and popularity was becoming more and more important. I had a good group of friends, but totally longed to belong to the popular crowd, which was comprised of all the "beautiful girls" (which honestly, who really is gorgeous in middle school?!). I was SUCH an ugly duckling back then - awkward, big glasses, bad hair (in the in between stages of growing out my bangs), bad skin - and was just trying to fit in any way I could. I would come home from school just feeling so ugly and so gross about myself every single day. Also during that time, my parents were constantly at each others' throats - my mom was pissed that my dad was never home, my dad was stressed out about negotiations and had no time to listen to my mom, and neither of them were getting along.
It felt like my life was completely spinning out of control so fast, and there was nothing I could do to make it any better or easier. I woke up every morning and was still the same, awkward girl that I always had been, my parents still fought (when my dad was actually home, which was rare), and I was still unpopular. Honestly, I don't even remember when during fifth grade it began, but I do remember that every day during lunch, I would throw away my sandwich that my mom had packed for me. That began the slippery slope it took to get me into full blown anorexia. Before I knew it, food had started to completely control my life - but it was "good" because I actually had the control. I decided when I could and couldn't eat - what I put into my body, everything. For a confused pre-teen girl with no control over any other aspect of my life, it was pretty comforting. I won't go into specifics of how I hid it for so long, because I know how triggering that can be, but let's just say I was very, very sneaky.
This continued through the years, progressing immensely. At the end of sixth grade, my parents yanked me from public school and put me in a private school, which just made the problems worse, because now I was torn from my familiar environment and thrown into something completely new. My new friends at private school didn't understand why I never ate lunch, avoided bagels at "bagel break," and wouldn't come out to dinner with them... I began isolating myself further and further, sinking more into my depression than ever. Since my dad was rarely home, he never wanted to spend any of the actual time he was there to pick fights with me over eating habits, and my mom was too oblivious to really notice a problem. Gradually though, they began to notice and take note of my eating habits. They confronted me constantly, and I always shot them down and said that they were never around, so how would they have a clue what I ate when they weren't home. One thing about having an eating disorder - you become a brilliant liar, probably because you have to constantly convince yourself that you're okay and you're doing nothing wrong to your body.
It wasn't until the summer before ninth grade, when at 5'5 1/2" I weighed 84 lbs. that my parents knew that no matter how hard I protested that something was wrong, they needed to intervene. I was checked into a program for girls with anorexia, and spent the entire summer in the program, learning "coping mechanisms" and the cold hard facts about the disease. I came out of it with a completely new perspective, new diet plan, and a fifteen pound weight gain. My progress lasted about a month, until another family issue came up, and I reverted back again - but this time not to anorexia, which my parents knew the signs for, but bulimia.
Bulimia is much harder to pinpoint, because the weight does not have a dramatic loss - rather weight just stays the same. For another year, I spent a good percentage every day throwing up anything I had eaten - it got so bad that I could no longer use my swollen/bruised knuckles to force things up, and moved on to swallowing medicine to help me throw up. When my parents found out what I had been doing (especially since prolonged use of this particular medicine leads to heart failure), they sent me to another rehab facility - and this one was no picnic. Someone had to be with me every minute of the day - I had to eat whatever was served to me, someone followed me to the bathroom, no magazines, books, or tv was allowed except for approved materials, which were all anti eating disorder films and books. It was the worst experience of my life, and it lasted for two and a half intense, intense months. When I came out though, I had new ways of coping, numbers to call if I was triggered, and had to see a therapist three times a week - all which were in a contract I had to sign upon my release.
I was "cured" in the fact that I maintained a healthy weight, kept gaining weight and made enormous progress with the therapist, who got to the bottom of what was going on with me. At the same time, even now, five years later, I struggle with food every single day. Every day is a fight to stay on the same page, to know when I'm overdoing it or under doing it, and it's really scary. I also have health problems which result from this, that may or may not come back to haunt me later in life.
Moi, looking terrible, two weeks after my second rehab stint (thank God my parents did not let me get a tattoo at that point!):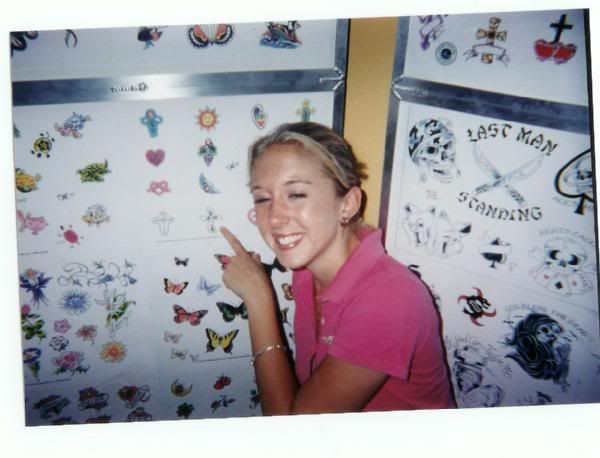 I now try and tell my story whenever I can, because although it was one of the most painful times in my life, there is definitely no telling how many other people are going through something similar. It's so important to be on the lookout, especially with your friends - after I got help, so many people said to me, "Well, it was obvious there was something wrong with you, but we didn't want to upset you by accusing you of anything." While each case is obviously very different and the reasons behind it are so numerous, but I know that with me, I was looking for people to care about me and help me. There are often so many warning signs that are served as a means of reaching out.
If you want to talk more about this subject, feel free to ask me for my email address!
Anyway, I'm sorry to get soo personal with you all, thank you for letting me indulge. I love you all, you're fantastic, and pleaseee enjoy your weekends!
xo