Thanksgiving is by far my favorite holiday... I love the way that family just gathers together, forgets any issues, and just enjoys a gorgeous house and delicious food!
We usually head up to our house at the Cape to spend time with my mom's brother and his family who we rarely see. Unfortunately, this year they are unavailable so we're doing a Jersey Thanksgiving at my aunt's...which entails some delicious turkey, mashed potatoes, etc...all catered from her favorite restaurant. To me, I'd much rather waking up to the smells of the turkey cooking in the oven...helping my mom bake her amazing apple pie, then help the caterers know whether to set up everything in the formal dining room or the kitchen.

Though my aunt's Thanksgiving is very much a formal event, which can be a little stuffy, I always love looking at her house. She goes ALL out with centerpieces (usually something revolving around fruit), and decorates her house elegantly, and with so much holiday spirit.

Another part of Thanksgiving I love is how all the magazines like Martha Stewart Living and Real Simple feature special Thanksgiving issues. I love looking at Martha's house and how she's decorating it this year (and what she's cooking!).

Martha Stewart NEVER ceases to amaze me... I seriously don't know how the woman makes things so freaking adorable 24/7...and everything is SO new and unique.

Isn't this table absolutely adorable and

so

festive?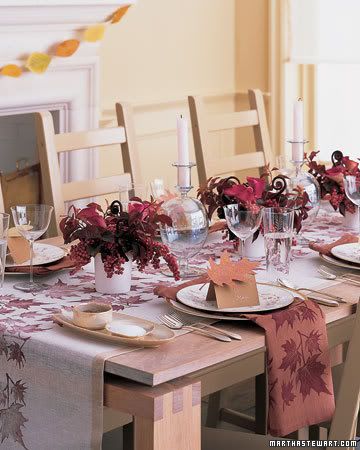 To learn how to make these adorable place cards for a less formal Thanksgiving, look to Martha Stewart, domestic goddess.
She also has a contest up on her website where you can upload pictures of your own Thanksgiving, and try and win! Every photograph will be featured on her site for people to look at!


*~*

These fun table designs are from Real Simple, which has a ton of easy and creative ideas for fun Thanksgiving centerpieces (and daily life)!

This one will cost you about $8, and looks so simple chic: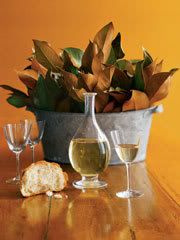 I think this centerpiece is fantastic - the combination of pomegranates, Italian plums and figs work so well together!: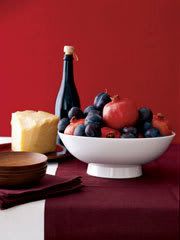 What is your family's Thanksgiving tradition? Do you go the catered Thanksgiving route, or do you do the traditional way?